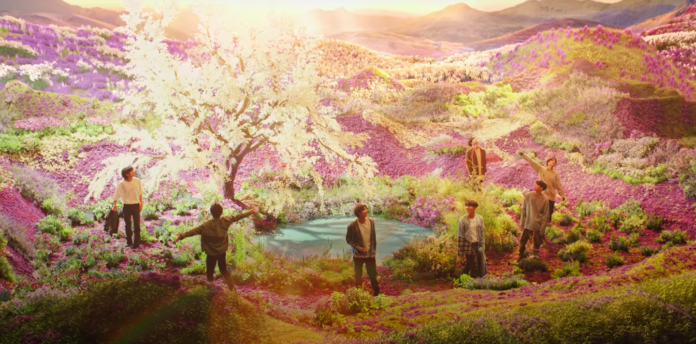 Still from BTS' 'Stay Gold' video. Credit: Ko Yoo Jeong/ YouTube
BTS have shared a new music video for their latest Japanese-language single 'Stay Gold'. Directed by Ko Yoo Jeong, the video shows each member of the seven-piece K-pop group wandering around dark locations, combined with scenes of them hanging out together in lighter spaces as they dream of being reunited. Check it out below.
The single is taken from the band's upcoming Japanese-language album MAP OF THE SOUL : 7, which is set for release on July 14. The LP marks the group's fourth Japanese full-length release and their first since 2018's Face Yourself. It will feature Japanese versions of songs from this year's massively successful MAP OF THE SOUL : 7, as well new originals including 'Stay Gold' and the yet-unreleased 'Your Eyes Tell', which was written by singer Jungkook.