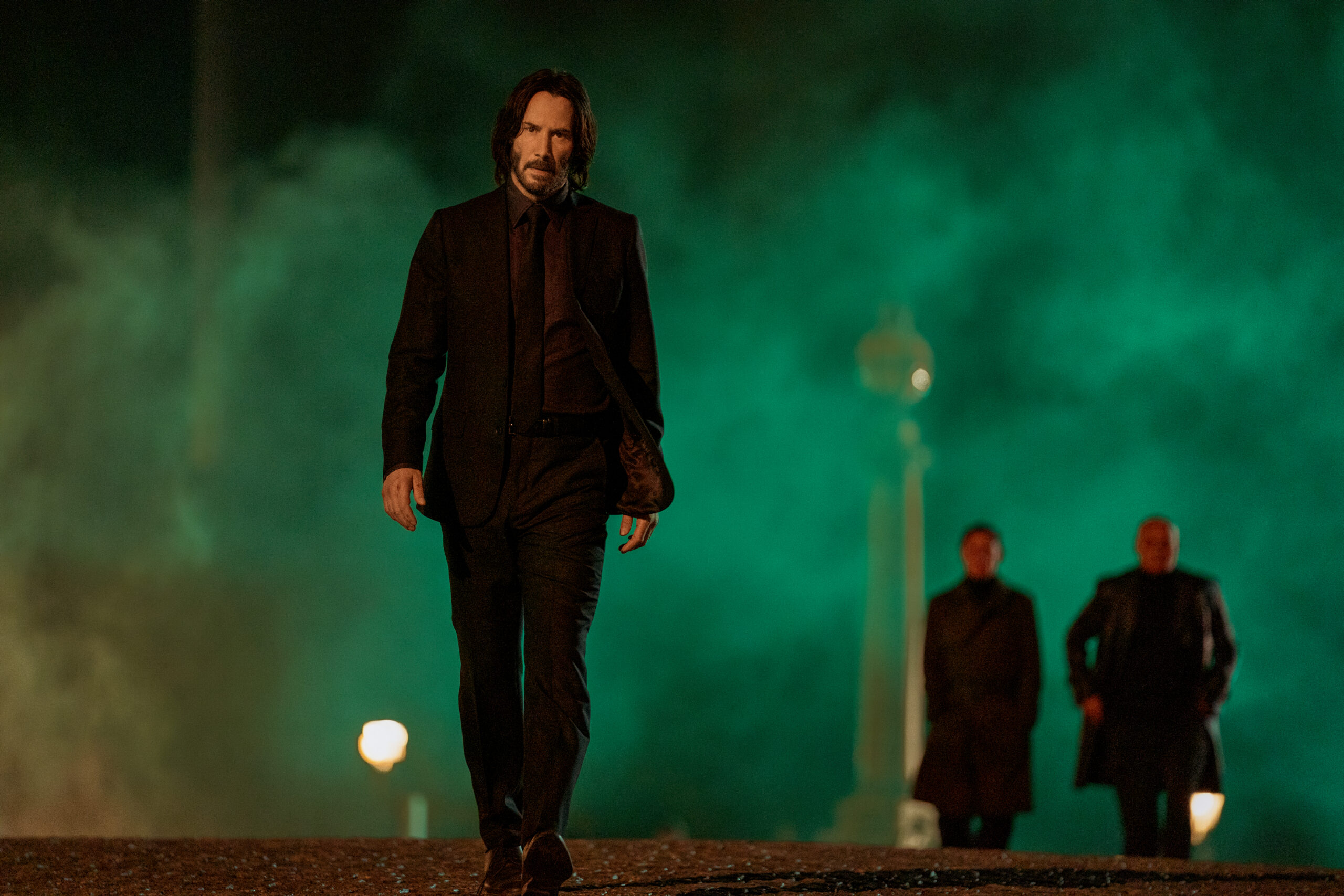 In our Spring issue, we published Kyra Wilder's poem "John Wick Is So Tired." To celebrate the poem and the recent release of John Wick: Chapter 4, we sent four reviewers to three different John Wick screenings over the course of a week.

Tuesday, March 21: Press Preview
The first thing we noted when we entered AMC Lincoln Square 13 for the New York press screening of John Wick: Chapter 4 was that film PR girls are way nicer than their fashion industry counterparts. Check-in was a breeze, and we were informed that since we had special blue wristbands, we didn't have to turn in our phones. We never considered that we would potentially have to turn in our phones, but were relieved nevertheless. We were handed a very large stack of papers with a large John Wick logo at the top, containing detailed information about the franchise and a long explanation of the movie's plot, which we chose not to read too closely for fear of spoilers. This heavy stack of papers was also where we first learned that the runtime was a whopping 169 minutes. This troubled us, mostly because we had had a lot of wine with dinner and were concerned that we would have to pee. The theater was packed with agitated-seeming nonjournalists who were somehow able to secure tickets. People wove up and down the aisles in a huff, frustrated by the first-come-first-served seating. A couple of women exchanged curse words over another woman's volume. Multiple people arrived late with full take-out bags, their lack of discretion leading us to believe that the staff of the theater were not too concerned with enforcing the rules of this AMC John Wick press preview.
The French crime film maestro Jean-Pierre Melville once said, "What is friendship? It's telephoning a friend at night to say, 'Be a pal, get your gun, and come on over quickly.' " In the universe of John Wick, it's pretty much that too, but it's a thousand guns, two dozen archers, bows, arrows, knives, swords, bulletproof suits, a sundry list of exotic ammunition, an attack dog, a blind assassin, dueling pistols, a fleet of luxury attack vehicles, and a handful of classic American muscle cars. Oh, and if you could bring them all to the Sacré-Cœur, in Paris, by sunrise, that would be great, thanks.
By now, with the fourth installment in the franchise, the formula is familiar. John Wick (Keanu Reeves), on the run from the High Table (a governing body for the underworld whose main function just seems to be killing people) kills a lot of people in a series of highly choreographed set-piece action sequences in places like fancy hotels for assassins, fancy churches for assassins, and fancy Berlin techno clubs, also presumably for assassins. There's something very charmingly mid-2010s about the environs and the soundtrack (was that the opening of Justice's "Genesis"?), like a world where there was no COVID pandemic, but where everyone is a rich assassin in an ugly custom three-piece sparkly suit. Better times.
Reeves speaks softly and carries a number of big loud sticks, swords, et cetera, often breaking down his guns into their constituent parts and throwing them, stabbing people with them, or indulging in other creative but necessary acts of violence. There's an extremely fetishistic aspect to the gearheaded breakdown of the guns, and to the clicking of magazine releases, that forms a sort of counterpoint to the theoretically balletic fight choreography. Like Jean-Pierre Melville, John Wick normally drives a classic Mustang. How a similar car made its way to Paris in this film is anyone's guess. There really aren't any other comparison points between this film and Melville's Le Samouraï, except that they're both about assassins. Oh, and friendship.
—Alex Tsebelis and Chloe Mackey
Thursday, March 23: Premiere Day
I was supposed to go to a cosplay premiere event for John Wick: Chapter 4, but couldn't get tickets in time—so I ended up at a normal Regal theater for the nearly sold-out 7 P.M. screening. I'd dressed for cosplay that morning, but I'd also never seen a John Wick film, so I had to make some educated guesses. Action movies, I knew, are all about men in suits performing suit-inappropriate actions. Assuming John would have a sexy love interest (this turned out to be wrong), I selected the female suit equivalent, a secretary costume: fitted brown houndstooth minidress. I loitered at the Regal Essex Crossing second-floor bar, photographing my outfit against the sunset over the Williamsburg Bridge, a very John Wick backdrop. "Is this for a fashion blog?" the Regal bartender asked me, winking. "No," I said. "I mean, yes."
Everyone else in the audience wore joggers, a garment absent from the fashion-forward film. Indeed, without context, the opening sequence registered to me as a kind of psychedelically plotless Saint Laurent advertisement, a brand for which Keanu Reeves is an "ambassador." We begin with John Wick punching a brick in an elaborately shadowy warehouse. His training is interrupted by the dramatic entrance of his three-piece suit, appearing, silhouetted against the inexplicably fiery glow of a doorway, in the hands of some sinister fellow (friend, foe, butler?). The suit—presented in a manner usually reserved for the hero's weapon of choice—is accompanied by a line of dialogue I neither understood at the time nor remember now, but which was clearly a classic John Wick catchphrase that meant something like "Here's your suit. Now it's time to kill—again." And he totally does.
Wick's antagonist, the Marquis, sports a series of glittery waistcoats complete with asymmetrical gold buttons and stupid little chains. His weapon: blades. His goal: glory. The effete Marquis probably has ten times as much dialogue, and charisma, as John Wick, who is completely without character attributes. John Wick is just a killer, more like a machine than a human being. His suit, like his gun, is all-black.
—Olivia Kan-Sperling, assistant editor
Tuesday, March 28
The statistically inclined among us might have told me, as my projectionist friend did later on, that the odds of the screen going black twenty minutes into my 10:30 A.M. Sunday-brunch screening of John Wick: Chapter 4 at the Alamo Drafthouse up at least three escalators in the City Point mall were actually not so low in the age of automated projection. So my associate (a different one) and I finished our cauliflower-crust breakfast pizza and got a refund, and I picked up where we'd left off two days later at AMC 34th Street 14, where Nicole Kidman's on-screen avatar assured me that the display was IMAX and the projectors laser. In the basement of a Berlin techno club full of bad, identically robotic dancers, John Wick is dealt in to a five-card-draw game of poker with the two hitmen contracted to murder him and a German High Table official named Killa. At the end of the game, Wick puts two black eights and two black aces on the table, in what is usually a strong move—called the dead man's hand, as I learned that night on Reddit, after the hand Wild Bill Hickok was reputedly holding when he was shot—but Killa destroys his chances by playing an unbeatable five of a kind: which is impossible to achieve without cheating, of course, because there are only four suits in a deck. Killa would do well to be reminded, though, of the words of the Marquis, which I have started telling myself when I wake up in the morning: "How you do anything is how you do everything." The odds are always against John Wick, and he always wins anyway. In the end, he slices Killa's neck open with a playing card, and pockets one of his gold teeth.
—Oriana Ullman, assistant editor