Cardi B and Megan Thee Stallion have joined forces to make sure our Hot Girl Summer dreams still come true!
The talented pair of rappers collaborated for a brand new track called WAP, nearly breaking the internet when they debuted the 4-minute song — and its SEXY accompanying music video — early Friday morning.
Related: Taylor Swift Reacts To Folklore Breaking Records Set by Eminem & Cardi B!
As if the two weren't hot enough on their own, Cardi and Megan recruited beauties like Spanish singer-songwriter Rosalía, Fifth Harmony alum Normani, newcomers Mulatto, Sukihana, and Rubi Rose, and none other than trendsetter Kylie Jenner for the jaw-dropping and provocative visuals. (Side note: Meg and Kylie must be on good terms again after their wild night out with Tory Lanez, right?)
Oh, and in case you haven't already figured it out, the NSFW song is an acronym which stands for…
Wet Ass P***y!
Now, grab a towel and let's get into the sexiest moments from this video!
There's Cardi and Meg set the stage early on by power strutting their way through a magical funhouse:
(c) Cardi B/Megan Thee Stallion/YouTube
Then the ladies get smooth and sultry with a band of snakes in the next frame (below). We sincerely hope this was all CGI!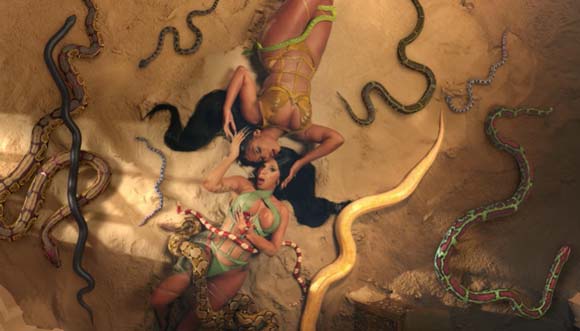 (c) Cardi B/Megan Thee Stallion/YouTube
Of course, the 27-year-old Bodak Yellow artist and 25-year-old Savage rapper gave a nod to the song's title when they felt each other up in the middle of a large wet pool area: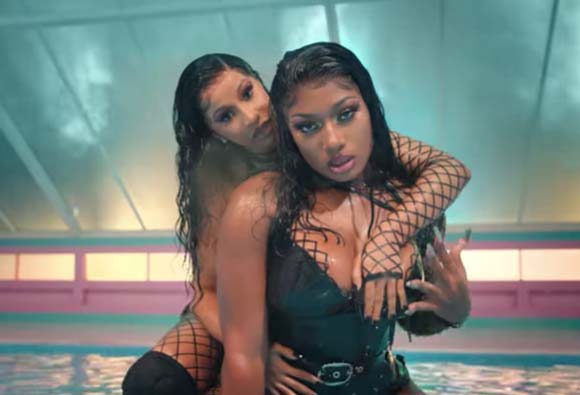 (c) Cardi B/Megan Thee Stallion/YouTube
And both women proved they have absolutely no problem busting a full split! Ch-ch-check out the identical poses here: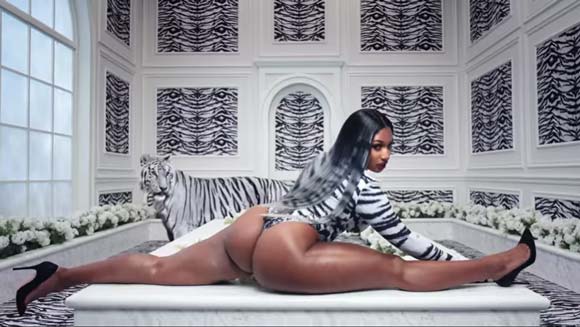 (c) Cardi B/Megan Thee Stallion/YouTube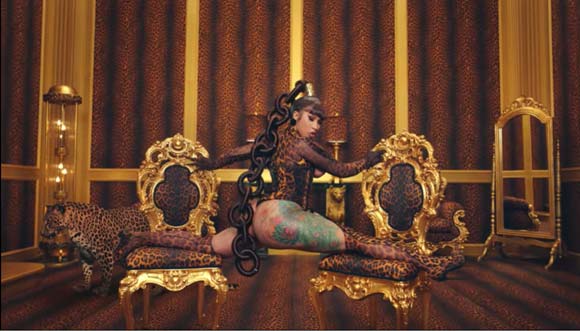 (c) Cardi B/Megan Thee Stallion/YouTube
DAYUM!
Fans really lost it when Normani appeared on-screen whining her waist to the record's trap beats:
I WAS NOT NOT EXPECTING NORMANI TO APPEAR IN THE WAP MUSIC VIDEO ./!?:/.:,!;./ HUH?!? pic.twitter.com/kaa9rBB26T
— ✩ (@inthepartyremix) August 7, 2020
Rosalía sizzled in her cameo, wearing a red, skin-tight latex ensemble:
lets talk about rosalía on the WAP music video… pure perfection pic.twitter.com/y0lBWLwp11
— 𝑖𝑧𝑧𝑖𝑒's cardigan ♥︎ check out my cover (@izziemarcondes) August 7, 2020
However, the moment that really made viewers do a double-take is when Kylie arrived!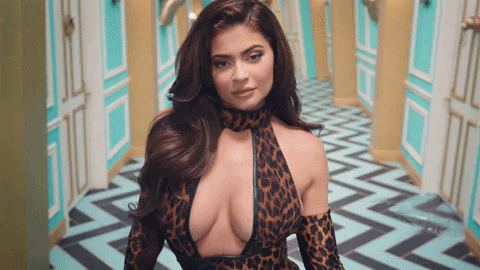 As amazing as she looked, Twitter users seemed pretty upset she was included among this group of women instead of someone else (Ehem, Jordyn Woods, maybe? Or has that chapter been close?) Read through a few of the mixed reactions here:
"Someone plz help me understand why the fuck KYLIE JENNER is in the Wap music video ????"
"Honestly @NikitaDragun would of beeen way more fire than @KylieJenner in that music video 🤷🏽‍♀️ #wap"
"I literally went "eh guysssssss" when I saw @KylieJenner walk in the Wap music video"
when I saw Kylie fuckin* Jenner on the music video of WAP: pic.twitter.com/vaXZJMtZUv
— f (@boustiflore_) August 7, 2020
Yikes! That shade aside, the full music video is definitely worth a watch (below) and let us know what you thought of it in the comments section:
[Image via Cardi B/Megan Thee Stallion/YouTube]