The Pursuit of Love: Britain's most scandalous family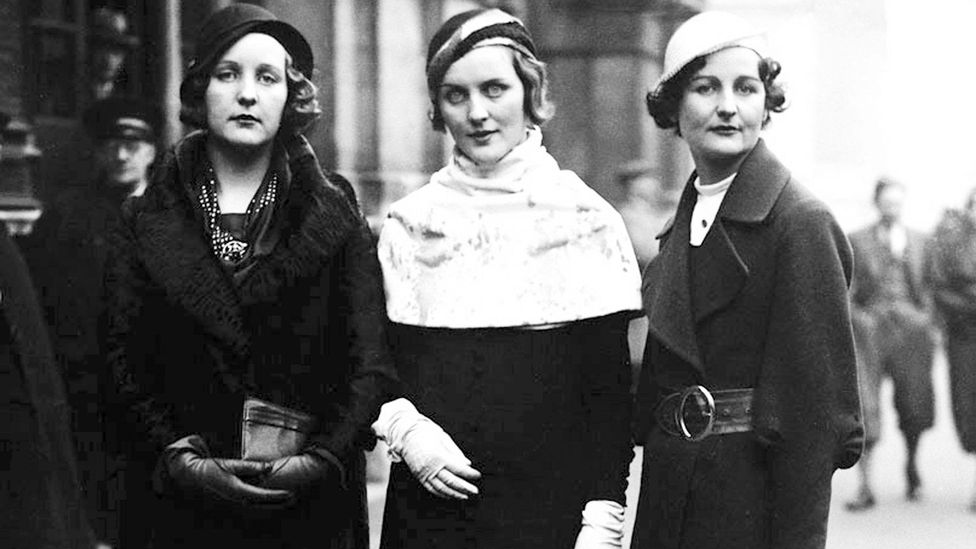 As a BBC TV adaptation of Nancy Mitford's The Pursuit of Love becomes available to stream internationally, John Self explores its real-life inspiration – the author's own family.
"I must admit, 'The Mitfords' would madden me if I didn't chance to be one," wrote Diana Mitford to her sister Deborah in 1985. "How ghastly [they] all sound, though of course in real life haha they are ideal." And so say all of us! The success of the new BBC adaptation of Nancy Mitford's novel The Pursuit of Love (which this week is now being made available to watch internationally on Amazon Prime), and the renewed interest it has sparked in the bonkers, scandalous family that created and inspired it, makes us ask: what is it about the Mitford sisters that keeps us reading – and watching?
More like this:
– The world's most misunderstood novel
– How the 'New Woman' blazed a trail
– The visionary genius of Octavia Butler
The Pursuit of Love, which was published in 1945, sold 200,000 copies in its first year and has rarely been out of print since, shows that there is a ready audience for its delightful blend of wit and absurdity. Its story of the love lives of members of the eccentric Radlett family is funny, satirical and full of deliciously strange people, like the hypochondriac suitor Davey who "twisted his tonsil, singing" and was "on a new diet: one meal white, one meal red."
And the book leads to the family, because The Pursuit of Love comes from Nancy Mitford's early life: it's "about us when we were little". That is one reason why she found it so easy to write, and why she found subsequent novels so difficult. (The follow up, Love in a Cold Climate, is less a sequel than an equal, being set in the same time frame as The Pursuit of Love but following a different branch of the family tree.) Making up stories is difficult when your own family seems like the most fantastic work of fiction. Nancy's friend Evelyn Waugh, who came up with the title, said she had used up all her plots in one book – which of course is why it has such pace and zest.
The Radletts in the book, cousins of narrator Fanny Logan, are really the aristocratic Mitfords, who were privileged though not fantastically rich, perhaps in part because of extravagances like sending their laundry to Harrods in London when they were holidaying on a Scottish island.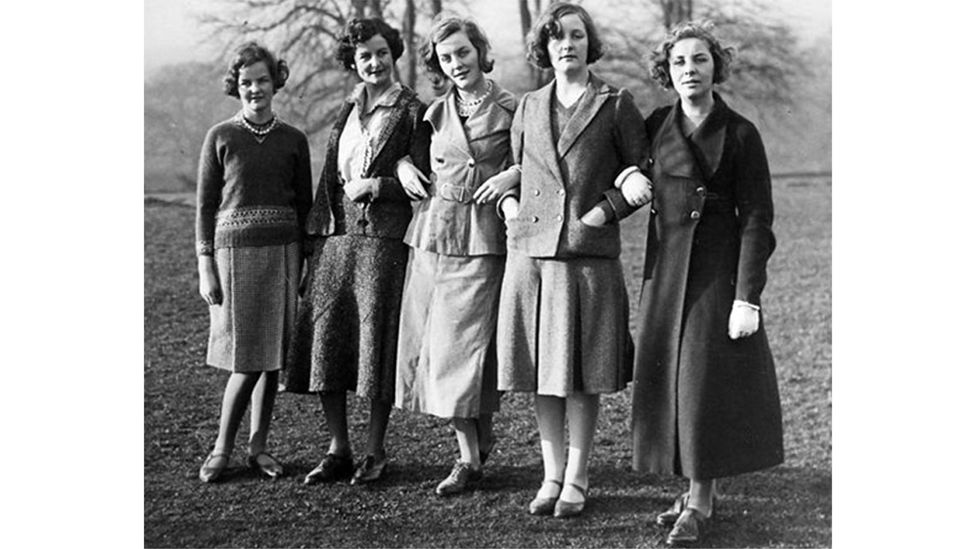 Jessica, Nancy, Diana, Unity and Pamela Mitford in 1935 – just the youngest, Deborah, is absent (Credit: Alamy)
Uncle Matthew in the book is directly based on Nancy's father, Lord Redesdale, though as far as we know he never used an entrenching tool to "whack to death eight Germans one by one as they crawled out of a dug-out." He did however, remarkably – to cite one of the crazier exploits in The Pursuit of Love – hunt his children with a bloodhound, though the reality was more playful and less terrifying than the book has it. His wife Sydney believed, as Mitford biographer Mary S Lovell put it, "that the name of a decent woman should appear in the newspapers only twice: first on her marriage, and second in her obituary." Her daughters did not live up to this standard.
Lord Redesdale once said, "I am normal, my wife is normal, but my daughters are each more foolish than the other." Well. Like Uncle Matthew in The Pursuit of Love, he read only one book in his life – not White Fang ("so frightfully good I've never bothered to read another," as Uncle M put it), but Thomas Hardy's Tess of the D'Urbervilles, which he hated because of the tragic ending. When it was explained to him that it was only a story, Lord Redesdale was even angrier: "What? Do you mean the damn sewer invented it?" From this it's clear the Mitford girls didn't get their literary acumen from him.
Living in a bubble
But words were a bond in their upbringing nonetheless: never going to school, the six Mitford sisters were confined together at home and developed their own slanguage and nicknames, which kept them close through adulthood, even when they had fallen out and were on "non-speakers". (No fight, after all, has the heat of a best friends' fight.) But it also insulated them from the real world, which led to snobbery and, as we shall see, much worse.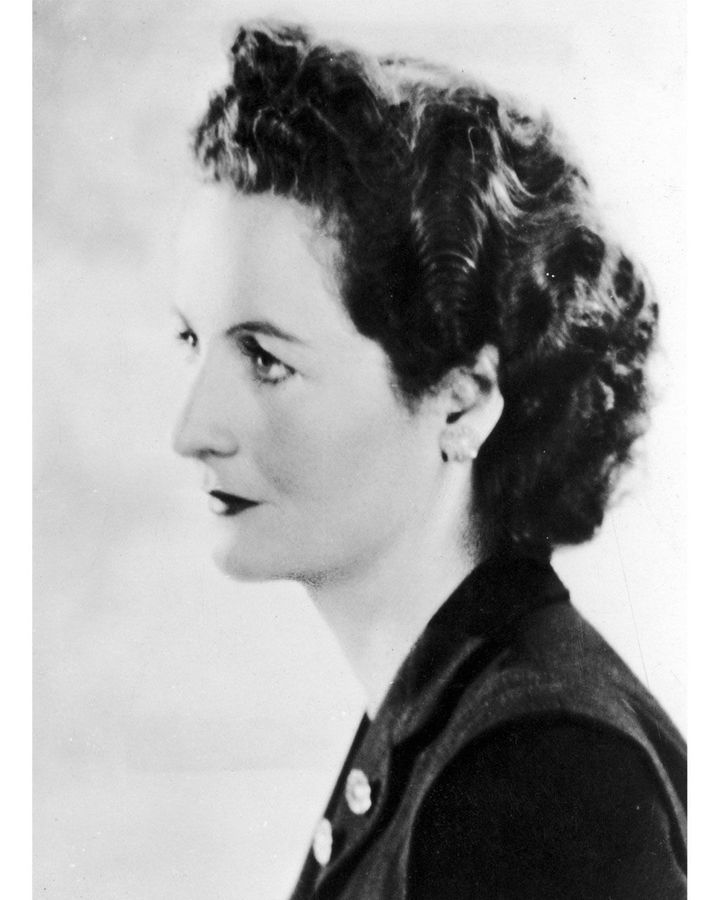 Educated at home by governesses, Nancy (pictured) spent much of her time in the family library (Credit: Alamy)
The six sisters were born between 1904 and 1920, and can be separated roughly into pairs: let's call them the Writers, the Traitors and the Others. (Oh, and there was brother Tom, the Branwell Brontë of the bunch, who died fighting in World War Two and plays no further part in this story. He fought in Burma rather than Europe because, according to family friend James Lees-Milne, "he does not wish to go to Germany killing German civilians whom he likes. He prefers to kill Japanese whom he does not like.")
Take the Others first. The youngest Mitford sister, Deborah, was the only one who fulfilled her parents' expectations by marrying into the aristocracy, becoming the Duchess of Devonshire, and looking after the English stately home Chatsworth House, where Stanley Kubrick filmed Barry Lyndon. Deborah in her 2001 book Counting My Chickens showed how deep-seated eccentricity was in the family DNA, when she wrote of how her grandmother "used to preserve the family furniture by banging it with a mallet to give concussion to the woodworm."
The other Other was Pamela, least well-known of the sisters, "the rural Mitford" as she was described by poet John Betjeman, who unsuccessfully proposed to her, twice. The limit of Pamela's eccentricity and indulgence was to buy an Aga stove the same colour as her eyes.
All the Mitford sisters were great society beauties, all cheekbones, permanent waves and luminous blue eyes, except for eldest sister Nancy, whose green eyes, "triangular in shape" according to Waugh and Betjeman, gave her a sensitive, saddened look that belied her cruel wit. But "laughter", Diana Mitford wrote, "doesn't always mean cheerfulness." Even as a child Nancy's barbs were pointed: she upset sisters Unity, Jessica and Deborah by asking them, "Do you realise that the middle of your names are nit, sick and bore?"
In The Pursuit of Love, we're told that due to their erratic education, the Radlett children "could not stand boredom" though "storms and difficulties left them unmoved." So it was with the Mitfords: and when there weren't any storms nearby, they created their own. Nancy's unkind wit came from an "upbringing [that] taught her never to show what she felt," she told James Lees-Milne, as a result of which he found that "there is a vein of callousness in her which almost amounts to cruelty."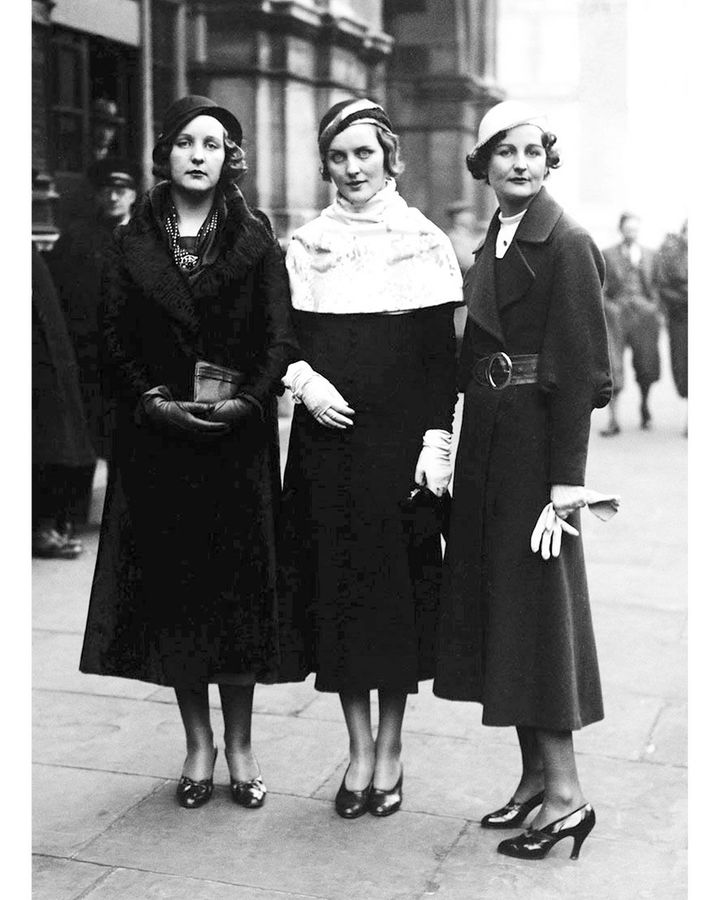 Unity, Diana and Nancy Mitford – two 'traitors' and the writer (Credit: Alamy)
This lack of empathy came out much worse, however, in Diana and Unity Mitford. Does it seem "too much", to adopt a Mitfordism, to call them the Traitors of the family? Diana and her first husband Bryan Guinness were the toast of the Bright Young Things in 1920s London: they inspired Evelyn Waugh's novel Vile Bodies, which he dedicated to them. But Diana, attracted to power as all the Mitfords were, fell in love with Sir Oswald Mosley, founder of the British Union of Fascists and the model for PG Wodehouse's "amateur dictator" Roderick Spode in his Jeeves novels ("it was as if Nature had intended to make a gorilla, and had changed its mind at the last moment").
Both Mosley and Diana were imprisoned during the war on suspicion of sharing information with the Nazis (it was Nancy who informed on Diana), and for the rest of her life she refused to disavow her support for fascism or admiration for Hitler before the war. "Being hated means nothing to me, as you know," she said.
The Mitfords were about excess, and if Diana was in love with England's tinpot Hitler, Unity Mitford, whose desire to shock from a young age included bringing a rat to a Buckingham Palace garden party, went for the real thing. Her love for Adolf Hitler was complete and unyielding: she met him 140 times and carried a signed photo of him everywhere she went. (Mixed Up Mitford Girls Still Confusing Europe, read one newspaper headline in 1937.)
But when Britain declared war on Germany in 1939, Unity could not withstand the psychic conflict it caused her. She shot herself in the head, and missed, lodging a bullet in her skull but surviving for another nine years. After her suicide attempt, Hitler appeared at her bedside, which for most people would be a nightmarish fever dream, but for her was tantamount to a declaration of love. She declined into what James Lees-Milne called "a gradually dissolving fantasy existence" before her death.
(Not all the sisters had a bad war. Deborah contributed to The British Goat Society Yearbook 1972 with a report about her experience of travelling from the Scottish island of Mull to London by train at the outbreak of World War Two, with her goat. "At Stirling, in the middle of the night, I milked the goat in the first-class waiting room," she wrote, "which I should not have done as I only had a third-class ticket.")
But the sisters were nothing if not various, and to balance its two Fascists, the Mitfords had a Communist in Jessica, who from childhood had felt the discomfort of her family's privilege over "Ordinary People". I pair her with Nancy as the other Writer in the family – her memoir Hons and Rebels (1960, US title: Daughters and Rebels) is still in print, and her exposé of abuses in the US funeral home industry The American Way of Death (1963) was a bestseller – but her father (who was, remember, "normal") saw her as one of the Traitors, and cut her out of his estate, with each item on his will dividing bequests among his daughters and ending with the words "except Jessica". Red Sheep Cut Out of Will, said the papers. Jessica didn't seem to mind, having made a life for herself in the US as an investigative reporter, where her phone was tapped by the FBI and she was hauled before the California State Committee on Un-American Activities. (She pleaded the fifth amendment.) Well, as Fanny's cousin Linda points out in The Pursuit of Love, "being a Conservative is much more restful… whereas Communism seems to eat up all one's life and energy."
With all these conflicting forces at play, little wonder the Mitford sisters ended up so odd, and so uneven. They were Sister v Sister and England v England. They were the celebrity influencers of their time, a Bloomsbury Set in matryoshka doll form, famous for being famous when they weren't famous for being notorious. They are fascinating to us in the same way that The Crown or Downton Abbey are – remote lives, beautifully clarified – with the added bonus of it all being real. And there is a fiction-like perfection to their most absurd life details: did I mention, for example, that Nazi-loving Unity was conceived in the Canadian township of Swastika, where Lord and Lady Redesdale had decamped to prospect for gold in 1913, having narrowly decided against travelling there the previous year on the Titanic's maiden voyage?
At It Again, The Mad, Mad Mitfords, rang out one newspaper headline in 1938. They were at it then and they're at it still, and the circus shows no signs of slowing, with the new TV adaptation of The Pursuit of Love, the recent publication of a second collective biography of the sisters, and even a series of crime novels starring the sisters from English novelist Jessica Fellowes ("absolute blissikins" – The Guardian). But then, if you've read this far, you already understand that. The Mitford sisters, with the possible exception of Jessica, would have hated you and me, of course, so to laugh at them feels like punching up. But whether we're laughing with, laughing at or just taking in the show, the girls who never wanted to be bored achieved their aim, mainly by virtue of the fact that they were never, ever boring.
Love film and TV? Join BBC Culture Film and TV Club on Facebook, a community for cinephiles all over the world.
If you would like to comment on this story or anything else you have seen on BBC Culture, head over to our Facebook page or message us on Twitter.
And if you liked this story, sign up for the weekly bbc.com features newsletter, called The Essential List. A handpicked selection of stories from BBC Future, Culture, Worklife and Travel, delivered to your inbox every Friday.