Seiko is one of the most beloved and esteemed brands in the world of watches. They present stylish dials with timeless designs that transcend quality and individuality.
In this article, I'll look at some of my favourite Seiko budget-friendly watches that will fit your formal outfit event. From a special date to a tux-ready awards ceremony, these watches will compliment your outfit effortlessly.
Seiko 5 Sports 'Black Grape' GMT SKX
This £420 watch by Seiko is undoubtedly worth every penny. With a classic watersport style dial and bezel, the 'Black Grape' truly stands for its quality within its price range. The metal bracelet reminds us of Rolex's Jubilee bracelet bringing out complexity throughout the wrist while complimenting the bold font of the bezel and strong shapes within the dial.
It is perfect for casual swimming despite only being 100m water resistant.
In addition, it looks great when paired with a tailored black suit and silky white shirt for a formal ensemble. Like most diver watches, the watch comes in at 43mm diameter, so you'll want to try it out before you buy it.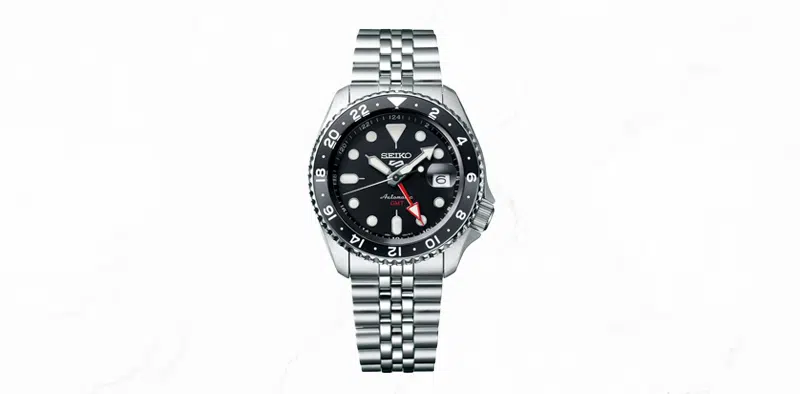 Seiko Presage Sharp Edged Series 'Blue Dial'
The 'Blue Dial' of the Seiko Presage Sharp Edged Series is one of the more minimal watches from Seiko on the market, focusing on elegance while remaining sharp with the distinctive dial pattern that emboldens itself onto you. Compared to the 'Black Grape,' it is about 4mm smaller, making it suitable for wrists of all sizes and perfect for men who adore classic-style watches.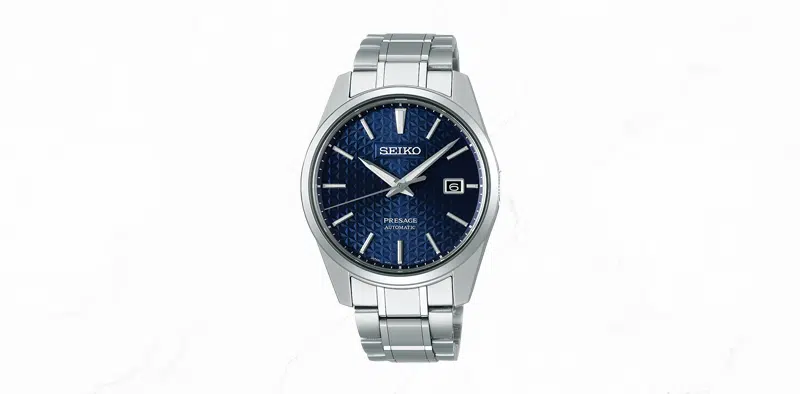 Seiko Presage Cocktail Time 'The Irish Coffee'
'The Irish Coffee' watch from Seiko is an acquired preference but certainly, one that fits the formalwear criteria with its mesmerizing, hypnotic-like dial and uncluttered approach. In addition, it leans to a warm colour pallet that whispers luxury and class, a truly defined piece for any watch collector or regular formal event attendee.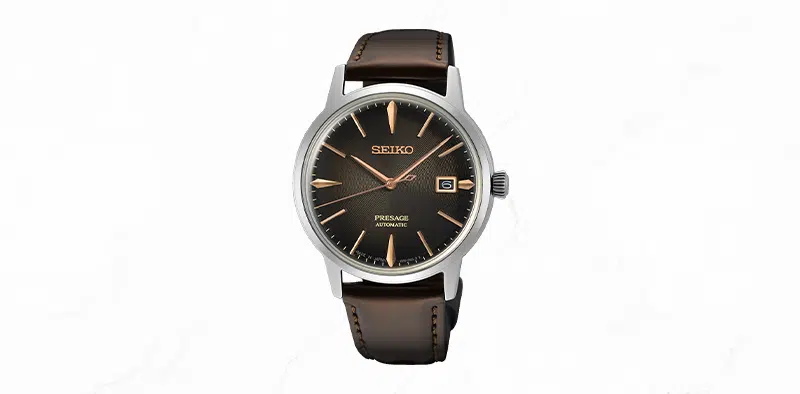 Seiko Presage 'Eternal'
Entering with a much pricier tag is the Seiko Presage 'Eternal,' a limited edition piece from Seiko (1,000 pieces). With a crocodile leather strap and a deep dark blue dial, this watch transcends maturity and simplicity, making it a highly suitable look for a white-tie dinner or a special occasion such as a wedding celebration.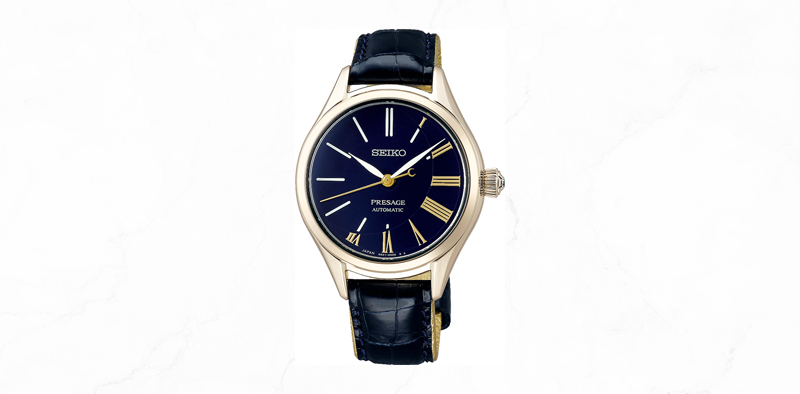 Seiko Presage 'Kabuki'
Last but not least on our list is another limited edition piece by Seiko named 'Kabuki.' With a brown-to-black gradient dial, this watch stands out as an expressive piece that thrives on the contrasting elements that give it a subtle appearance from afar but allow you to marvel at its beautiful artistic synchronisation up close.
At £900, it is undoubtedly a worthy piece for any weighty watch collector that likes the juxtaposition of quiet and spirited.